1. Click the event you wish to attend from the events shown on the main page of the InteriorPlus website.
The link will take you to a special page set up for the event you are interested in. Scroll down the page while reading its contents until you come to the application form at the bottom of the page and fill out all the necessary fields. All applications are free of charge.
*Make sure to fill out all the necessary fields. Submitting an application form when a necessary field has yet to be filled out will bring up an error screen, and you will be requested to fill out the form again.

2. Customers applying to InteriorPlus will immediately receive an invitation e-mail. A reply will be sent out within seconds to registered PC/smartphone/mobile phone e-mail addresses.
*If you do not receive an invitation e-mail, it could be because of a "mis-typed e-mail address," "settings preventing the receiving of e-mails on mobile phones, etc." and other such issues. Please check again to see whether such issues are not present. Please contact us if your invitation mail still does not arrive even after checking these issues. Additionally, free e-mail accounts such as Gmail are known to apply strong filters and invitation e-mails may be mistaken for junk mail and either treated as spam, or placed automatically in the promotions tab. If your invitation has not arrived please check whether this has happened.


3. The invitation will display on the screen. If you are using a PC, print out the page. If you are using a mobile phone or smartphone, save the screen as an image. Present either to event staff when attending. Only one invite is required for a group of people to attend. Once entry procedures are complete our staff will serve as your guide. We hope you find a fantastic piece of furniture!

This page has been prepared in foreign languages (English) to explain to our international customers how to sign up for events in an easy-to-understand manner. Please be aware that we cannot respond to inquiries sent to InteriorPlus in foreign languages. Further, we cannot guarantee that we will be able to provide you with foreign language support for the events we introduce to you. We appreciate your understanding in this matter.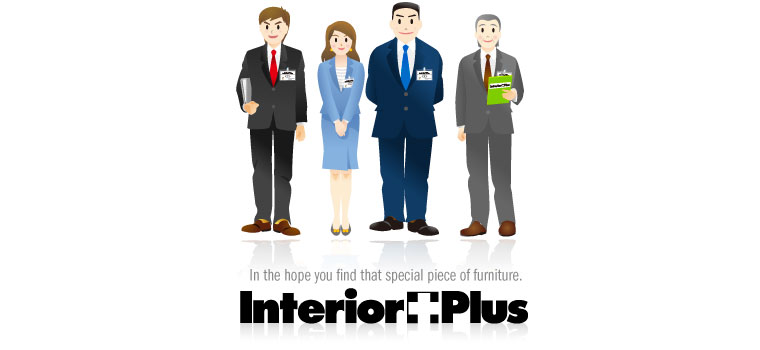 In the hope you find that special piece of furniture.
"Welcome"
We strive to do our utmost in helping you find that special piece of furniture/interior product you are looking for.
Our staff will respond to your every need in a conscientious manner, backed up with a wealth of furniture-related experience.
If you have any questions regarding furniture, interior or our exhibition events, please do not hesitate to ask at the event venue.